We have over 400 pairs in stock and most orders ship out the next business day.
Guarantee
The Courteney Boot Company guarantees their footwear for twelve months from any manufacturing or material defect and will, at their discretion, repair or replace your purchase. Please note that the guarantee does not cover damage caused by abuse, negligence or accidents. Normal wear and tear can be expected. Guarantee benefits do not result in an extension of the guarantee period, nor do they bring about a new guarantee period.
Conservation Note
Our luxury gameskin leathers are all from CITES-certified and approved, renewable sources and are hand picked for quality. Each individual animal had a natural life.


The Boot of Choice for African PH's
Here at African Sporting Creations we partner with select vendors who manufacture high quality, safari-inspired items. We began working with the Courteney Boot Company over 10 years ago and have consistently been impresed by the quality, selection and workmanship of their entire product line.

Due to customer demand, late in 2015 we began offering the ability for our customers to create their very own custom Courteney Boot. With over 200 possible combinations it quickly became a favorite solution for our customers in their search for the perfect boot.
Who is "The Courteney Boot Company"?
Courteney footwear and accessories are manufactured in the old fashioned way that's seldom seen today. Their products are handmade by skilled craftsmen and women in a small workshop in Bulawayo, Zimbabwe, using the finest gameskin leathers from renewable resources.
The Courteney collection combines natural gameskins such as Ostrich, Kudu, Cape buffalo, Impala and Hippo leather. With wild leather there will be variations in colour and texture, but your hand-crafted Courteney product will age gracefully with time, wear and polish.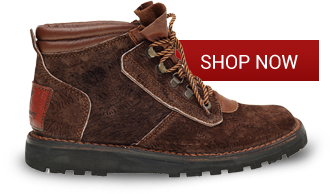 Unlike mass produced footwear, they use all-natural materials. The upper, lining, insole and sock are all natural leather, allowing your foot to breathe. The company even goes to the extent of making their our own natural rubber soles.
Getting the Right Fit
We make ordering your correct size easy. If you
currently own
a pair of Courteney Boots, order the size shown in the top left and right hand corner of the logo patch above the heel. If this is your
first pair
of Courteney Boots, simply order your most typical US Size and we'll convert it to the correct UK size for you. For most boots we offer both men's and women's sizes in full and half sizes.
When creating your "Custom Courteney" boots, you have the option to order a "Trial Pair" to ensure you get the correct size.
Customize Your Own Pair
We typically stock around 200 pairs of Courteneys and ship out orders the following business day. Unlike most custom boot orders that can take as long as 6 months, when you order a custom pair of Courteney Boots from us, you'll be wearing them within 120 days.
Since each order is custom, we do not allow returns. So, to be sure you order the correct size, we provide you with a "trial pair" to verify sizing and return to us.

More About The Courteney Boot Company
Founder
: John Rice
Founded
: 1992
Factory:
Bulywayo, Zimbabwe
John Rice, founder of The Courteney Boot Company, was a master shoemaker and designer who started his career with Clarks shoes in September 1953 aged 15 as a trainee in the Pattern Development Department. There was no better place for him to develop his talent, and John won his first international award at 17 for designing a stitchdown shoe with a crepe sole. This accolade fired John's ambition to have his own workshop one day, making stitchdowns and traditional African 'vellies'.
1972 saw John and his family cross the Limpopo River into a country that seemed to have remained in the 1960s. But the bush war was just starting to escalate and the dream of his own factory had to wait. For more than a decade, in between call-ups, John successfully ran his mentor's footwear factory. Then at last in 1992 came the day when John and Gale signed the founding partnership statements: The Courteney Boot Company opened for business in Bulawayo, Zimbabwe.
John enjoyed a marvelous twenty years bringing his unique skill and vision to creating a rather special form of footwear. His lifelong dream came true: the small workshop became a success, and the Courteney brand name established an intimate following of friends and aficionados worldwide.