DARK CONTINENT Shooting Sticks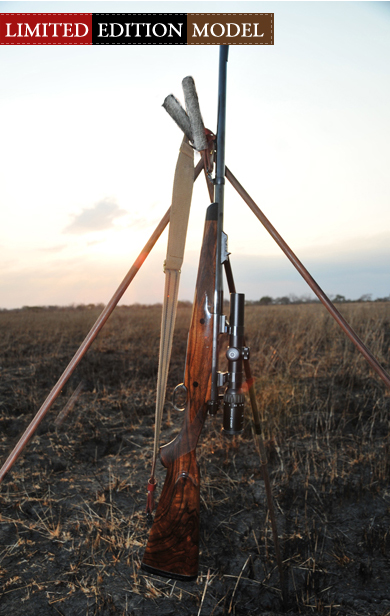 Red, black and brown are the colors most commonly found on Maasai warrior shields and that is why we selected three stunning exotic woods in the same colors for this first in a series of limited edition Shooting Sticks. The wood shafts are hand-finished from African Sapele (red), African Wenge (black) and African Shedua (brown). We engrave each of the top three connectors with the name of its wood species so you will always remember them. Only one dozen sets of this special model will be made and each one comes with a numbered and signed letter of authenticity. A different Dark Continent model will be introduce each year.
Each Set Includes:
Gray hippo or gray elephant hand-sewn, leather tops
Shock cord holes lined with custom brass sleeves
Mammoth ivory "Night Sights" so you know which two legs to grasp for set-up
Three anodized aluminum connectors engraved with the name of the three wood species
Heavy-duty canvas carrying case
The only option offered on these top-of-the-line sticks is engraving the lucky recipient's name in the wood of the middle shaft. The sticks are available in L (fit those 69"-75" tall) length only, weigh less than 3 pounds, and length before assembly is 36".
Our Dark Continent shooting sticks are perfect to hang a favorite hat or binoculars from in a special corner of your trophy room or to commemorate a special hunt with your son or daughter. They are a great gift for your PH or to use on your next hunting trip locally or abroad.
Order yours today before they are gone.

Features of the Dark Continent Shooting Sticks $429
For the tops, choose from Hippo (left) or Elephant (right).

Extra-soft, hand-sewn, circular leather tops protect the checkering on your fine rifle.
Custom made brass sleeves line the holes where the three shafts are joined. This was done to replicate the way high-end rifle maker's accent their locking lug bolts.
Beautiful 5 MM mammoth ivory "night sights" inlaid into the two shafts grasped for set-up. This was inspired by bespoke double rifles that used a flip-up ivory front sight for low-light conditions.
Connectors
Anodized, non-reflective black matte connectors are standard on the Platinum Grade. Connectors are painted black on the Gold model.
Engrave the wood shaft for $49. This is a great option when giving them as a gift.
Carrying Case
Both grades come complete with a high quality, heavy duty case that keeps your shooting sticks from coming into contact with your rifle during air transportation.
Exotic, Rigid, Kiln-Dried Shafts: Sapele, Wenge & Shedua
Hand-finished woods:
Sapele (left)
Wenge (middle)
Shedua (right)
We engrave each of the top three connectors with the name of its wood species so you will always remember them.
Engraving
Should you choose to customize your shooting sticks, the option to engrave a name will be available during the checkout process.