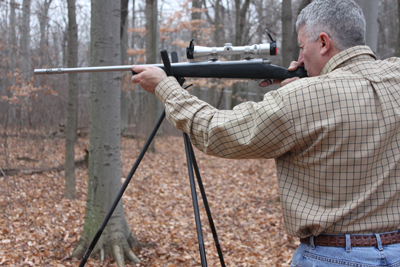 Carbon Fiber African Shooting Sticks
Our new Carbon Fiber take-down shooting sticks are the first of their kind. Carbon fiber has an amazing set of properties: it is 4 times stiffer than steel and yet weighs less than aluminum. They are designed to fit into any airline approved gun case. These are targeted towards sheep/mountain hunters and anyone else who wants the lightest and most rigid shooting sticks available.
The carbon fiber sticks use our two-piece aluminum take-down connector designed by a specialty fittings engineer that has three points of contact for tremendous strength. As an added feature, the connector incorporates a rubber gasket that compresses with the last turn to prevent them from vibrating loose when traveling cross country. Putting them together is fast and easy; they screw together by hand and assembly takes just a few minutes.
Each connector is precision milled from a solid piece of high-strength, light weight Aluminum bar stock and is then anodized a non-reflective, matte black. The seam between the connector pieces would almost be impossible to feel if we did not put a small micro-bevel on the two (otherwise sharp) edges that are exposed when the sticks are taken apart. The outside diameter of the connectors is the same as the Carbon fiber shafts to provide a uniform thickness from top to bottom.


These are lightest, most rigid, quiet and functional Shooting Sticks on the market. Our customers tell us they like the rigidity of them which allows them to lean into the shot, how the noise suppression bumpers eliminate the "dinner bell" noise made by the legs of all-aluminum models clanking together and how the wood points on the bottoms anchor them securely in place and eliminate any metallic noise.
All Carbon fiber models come with padded vinly tops and come with a high quality, heavy duty canvas carrying case that keeps them from coming into contact with your rifle during transportation. Personalize your sticks by having the connectors engraved with your full name.



These full-length sticks utilize carbon fiber shafts and a full-length black anodized connector. Pointed bottoms are from Hickory and the wooden portion will be .5" long. Weight for the large size is approximately 2.5 pounds. The full-length sticks measure 70" when assembled and the top and bottom sections are 37" when taken apart. Unscrew them and you can use the top section alone for shots from the kneeling or sitting position. The versatility we build into our full length shooting sticks provides you with two complete sets you can hunt with year-round.

Your Shooting Sticks are very simple to use. First, grasp the two legs that have the red marks on them and post the shorter leg out front, in line with where you want to point the rifle. Once you plant the front leg, pull back evenly on the other two legs to form the "V" for your rifle's fore end. Once you familiarize yourself with them, set-up takes just seconds and they expand your effective range considerably. More detailed instructions accompany each set.

We spared no expense in developing our new Carbon fiber take-down Shooting Sticks. We hope you enjoy using them as much as we enjoy making them.

ORDER NOW!
| | |
| --- | --- |
| Tripod | Cost |
| Standard Grade | $399 |