Turnbull® Color Case Hardened Shooting Sticks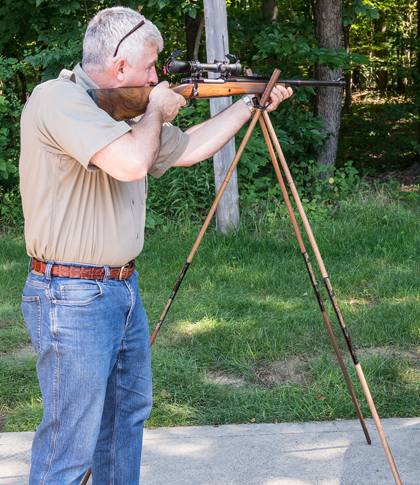 Turnbull Manufacturing
color case hardened the steel take-down connectors showcased on this new offering. Turnbull is the preeminent practitioner of this timeless process which graced the finest rifles, pistols, and shotguns from the golden age of American firearms production.
For the rigid, kiln dried shafts, we selected exotic red-toned Jatoba which offers the strength to support the added weight of the steel connectors and unmatched visual appeal. The Jatoba is finished with clear poly that highlights the color and graining of this stunning wood.

We have made thousands of shooting sticks since 2002 and during that time we have perfected our craft. We are pleased to bring you this new model that leverages all of our experience and enables us to elevate the functionality inherent in all of our shooting sticks to a work of art.

How do these sticks differ from our Platinum Grade offerings?
Extra-soft, hand-sewn, circular American bison leather tops protect the checkering on your fine rifle.
Custom made brass sleeves line the holes where the three shafts are joined. This was done to replicate the way high-end rifle maker's accent their locking lug bolts.
Beautiful 5 MM mammoth ivory "night sights" inlaid into the two shafts grasped for set-up. This was inspired by bespoke double rifles that used a flip-up ivory front sight for low-light conditions.
Steel color case hardened connectors expertly done by Turnbull Manufacturing.
Engrave the wood shaft for $49. This is a great option when giving them as a gift.
Plus...
Concealed screws affix the color case hardened connectors to the wooden shafts without blemishing them in any way.

An unobtrusive O-ring at the base of each connector minimizes the possibility of the connectors coming into contact with each other. See image of mammoth ivory "night sights" shown above for o-ring placement.

Weigh approximately 3.5 lbs. or about a pound more than our Aluminum models.

Includes a heavy-duty carrying case.
Rigid, Kiln-Dried Shafts: Jatoba $499
Jatoba (Brazillian Cherry) hard, heavy and tough. It is also one of the more commonly available exotic woods and the color range runs from Russett to reddish brown, often with some striping or streaking. Finished with clear poly.
Who is Turnbull Manufacturing and what is Color Case Hardening?
Here at African Sporting Creations we chose to offer Color Case Hardened Shooting Sticks for both their durability and beauty. These sticks are unlike anything you will find on the market and like our other shooting sticks, we offer a Unconditional Lifetime Warranty.

We chose to work with Turnbull Manufacturing (Turnbull Restoration & Manufacturing Co.) as they are the #1 in vintage firearm restoration and metal finishes. For more information about their products and services, please visit their web site.
Color Case Hardening is the process of hardening the surface of a metal object while allowing the metal deeper underneath to remain soft, thus forming a thin layer of harder metal (called the "case") at the surface. For iron or steel with low carbon content, which has poor to no hardenability of its own, the case-hardening process involves infusing additional carbon into the case. Case-hardening is usually done after the part has been formed into its final shape, but can also be done to increase the hardening element content of bars to be used in a pattern welding or similar process. (Source: Wikipedia)
Turnbull Shooting Stick Sizing Chart
Size

Your Height

O/A Length when unopened*

XL

6' 4" +

74"

L

5' 9"- 6' 3"

70"

M

5' 2"- 5' 8"

65"

Youth Med

4' 7"-5' 1"

60"

Youth Small

4' - 4' 6"

55"

* Longest piece is still only 40" when taken
apart for XL size and 37" for all others
Sizing
You will prompted to select your size when adding the item to your cart. Please refer to the chart to the left for specifications and help choosing your size. Additionally, should you choose to customize your shooting sticks, the option to engrave a name will be available during the checkout process.

Jatoba: $499