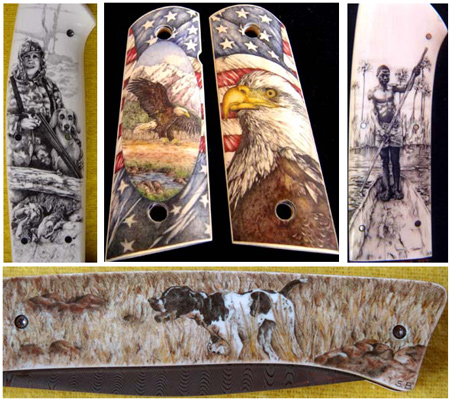 Model
: Custom (Your Photo) Scrimshaw Knife

Maker:
Theuns Prinsloo of South Africa

Description:
Send us your favorite photo and a picture of the knife design you want to have made (with approximate dimensions) and we will have one of the most talented custom knife makers in the world and one of the most skilled scrimshaw artists in the world collaborate on this project to commemorate your special hunt, a milestone event or hunting partner (human or canine). We can make your special photo come to life in either black and white or colored scrimshaw on a piece of ancient Mastodon ivory which is the perfect canvas for scrimshaw because it takes detail better than any other type of ivory. Traditionally, scrimshaw is done on the left hand side of the handle, but let us know if you want it done on the other side. If you desire, we can also etch your name and the commission date along the bottom of the knife's tang. To our knowledge, no one else offers this service and if they do it is unlikely they will be able to match the talent of the team we have assembled. This
Sporting Wood Creations exclusive
is the perfect gift for the discriminating hunter or huntress who has everything. In the February 2006 issue of Blade Magazine, Bob Glassman stated, "Thuens's knives are in a class by themselves". Call us at (423) 975-7626 so we can discuss your ideas at length and make them a reality.
Steel:
Hand Hammered Damascus

Handle:
Mastodon Ivory

Sheath:
Included, also boxed

O/A Length
: TBD

Blade Length:
TBD

Price:
$1,799 for B+W model and $1999 for colored scrimshaw model. Non-refundable, 50% deposit due at time of order.
Lead Time
: No more than 9 months and please call us if you are in a rush!