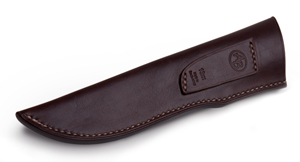 Model
: Dagga Boy and Ivory Drop Point Hunter

Maker:
Arno Bernard Jr. of South Africa
Description:
Beautifully designed drop point hunter that combines black African Cape buffalo horn with creamy white warthog ivory in the handle for a striking contrast. Incorporates a finger groove into the stainless steel bolster to make sure your hand does not slip towards the blade during field dressing. This spectacular knife is a
African Sporting Creations Exclusive. Each one comes with a high quality, hand made leather sheath that covers almost the entire knife so you never need to worry about losing them.
Steel:
Blade is Bohler N690 surgical stainless steel and bolster is 303 stainless steel

Handle:
Cape buffalo and Warthog

Sheath:
Included

O/A Length
: 8"

Blade Length:
3.5"

Price:
$399 plus S+H