These are for those who like to travel with their firearms incognito in a shorter take-down case (Blaser®, double rifles) and need a more compact set of shooting sticks. Instead of one set of anodized take-down connectors, these have two. The shorter wood sections make these sticks even more rigid than our other models. To make sure you can plant them in the ground, pointed tips are always facing down whether you use one, two, or all three sections. These are also our most versatile shooting sticks. Use the top section alone to shoot from the prone position. Use the top two sections (approximately 48" long) for shorter hunters, to navigate tough terrain or to shoot from the kneeling position. Use all three sections to shoot from the standing position.
Weight
Weigh less than 3.5 lbs.
Sizing
Large size fits hunters 69"-75", and the longest section measures 26".
XL fits hunters above 76", and the longest section measures 28" (will fit in a Blaser® case).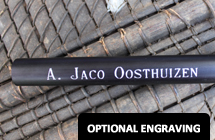 Optional Personalization
Engrave your name (up to 30 characters) on the connector for
$49
.