Mammoth Ivory Cigar Cutters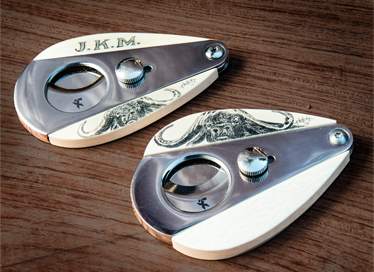 Our mammoth ivory cigar cutters are available in two sizes and can be personalized. The
original
(top)
is best suited for smaller images or initials, while the
"Fat Boy"
(bottom)
is the best option for larger images and company logos. Alternatively, you can also choose one of our best sellers depicting a head shot of a leopard, elephant, lion or Cape buffalo shown on this page.
Create your own design.
Call us at (419) 529-5599 with your custom requests.
Note:
You will be presented with the option to upgrade to the "Fat Boy" version for an additional $40 when adding an item to your cart.