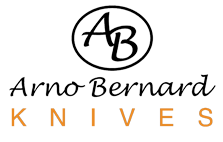 "Tough Enough to Use. Nice Enough to Collect"
Since the mid-90's Arno Bernard Sr. has been making knives full-time. The knives were sold world-wide under the well-known name of Arno Bernard Custom Knives. The workshop is situated in the outskirts of a South African town called Bethlehem. In addition to the five Bernards, there are also 15 employees who help create the knives. This includes Arno's wife, Zine, CFO; and Franco's wife, Alta, who is the office administrator.
His eldest son, also named Arno, completed a degree in accounting then formed his own company specializing in South African handle materials. In 2005 Arno decided to shift from selling handle materials to creating his own knives, thus Arno Bernard Knives was established.
In 2007 Franco Bernard, the second son, joined the company. Franco is a graphic designer who is also incredibly talented in the process of hand grinding knife blades.
The two brothers worked together to establish their brand in the United States and elsewhere to expand their company and continued to add new models using modern designing and production techniques.
"We design and handcraft our knives using a superior quality steel in combination with authentic South African materials to create unique handles. Our designs are simple, yet beautiful. Though these knives are suited as collector items, they are designed to maximise practicality.

There is no greater pleasure than seeing our knives being used!" - Arno Bernard
Early in 2013, when the business was firmly established, Arno Sr. began using his lifelong experience in knife making by designing new products, product testing, and production of knives. Later that same year the remaining two brothers, Juan and Ruan Bernard also joined the company as partners.
Arno Sr. and his wife Antjie now spend much of their time traveling about to gather South African handle materials for their family's knives. The combined talents and passion of the four brothers and their father form the shape of Arno Bernard Knives.
A FAMILY BUSINESS
Each Bernard has a specific role to play in the crafting and producing of the knives. Arno Bernard Sr. is responsible for research and product development. Arno Bernard is the CEO of the company and also works with product development. Franco supervises the grinding team, new product design, and product testing. Juan heads up the handle division and maintenance, and Ruan is the Operations Manager and project coordinator. Of course, all of the brothers have some role in the actual hand finishing of the knives and sheaths.
While we have a background similar to other knife makers in South Africa, we have grown from a "one man operation" that Arno Bernard Sr. started in 1979 to a factory that today supports over 20 families.
The Bernard family is very proud that they can contribute to their local community in Bethlehem, South Africa by hiring and training many wonderful men and women of integrity. Their factory is a close knit family with decade-old employees who have become leaders in their communities, their families, and their places of worship.