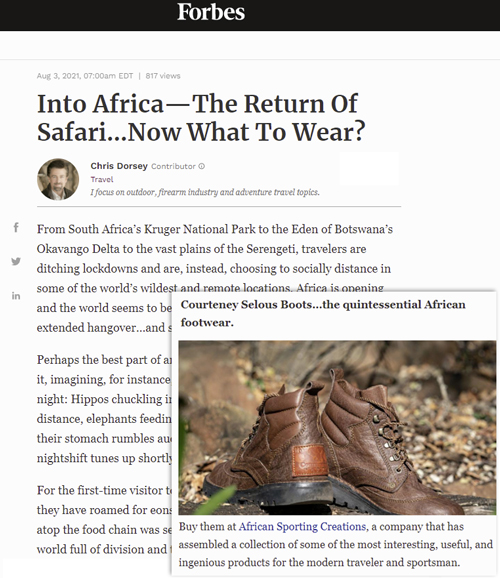 Forbes
Into Africa—The Return Of Safari…Now What To Wear?
From South Africa's Kruger National Park to the Eden of Botswana's Okavango Delta to the vast plains of the Serengeti, travelers are ditching lockdowns and are, instead, choosing to socially distance in some of the world's wildest and remote locations. Africa is opening and the world seems to be stretching and awakening from an extended hangover…and safari is just what the doctor ordered.
Courteney Selous Boots…the quintessential African footwear.
The Selous has been worn by rangers, safari guides, researchers and others who wanted to make sure they could out-run others in their party for decades. Buffalo leather also absorbs and releases moisture, which makes it ideal for both summer's heat and winter's cold…and if you get too close to one and wet yourself. Buffalo hide also does not stretch yet becomes more supple with time. Want to know the hide is authentically Cape buffalo? Just look for the scars in the leather, most likely a lion's autograph.
Buy them at African Sporting Creations, a company that has assembled a collection of some of the most interesting, useful, and ingenious products for the modern traveler and sportsman.
Read Full Article on Forbes
---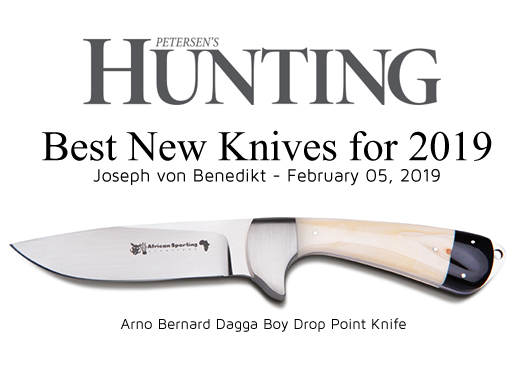 Petersen's Hunting
Best Knives for 2019
Even if it weren't the alphabetical first, I'd have put this knife at the top and given it a "best of the best" endorsement. Handmade in South Africa by a group of brothers, these Arno Bernard Dagga Boy drop point knives feature spectacular Bohler N690 surgical stainless steel hafted in Cape buffalo horn and warthog ivory. Perfectly balanced, they come incredibly sharp—as in scalpel sharp. Marketed exclusively through African Sporting Creations, each costs $399—and is worth more. This is a knife with which you can skin a thousand whitetails, plus all the moose, brown bear, kudu and buffalo you please, and then hand it down to your kids in perfect condition.
Shop the Dagga Boy Collection
---
The Courteney Boot Company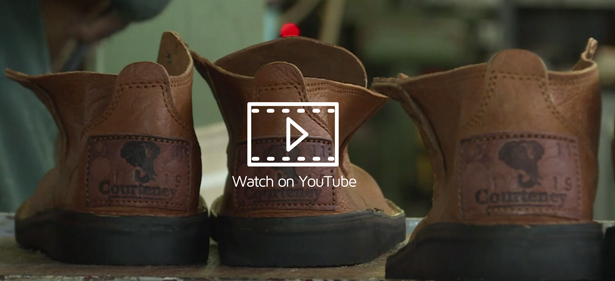 Handmade Zimbabwe shoes an unlikely global hit
AFP News Agency | February 2019
An unassuming one-room shoe factory in Bulawayo, Zimbabwe is quite literally defying the economic odds. Founded in 1994, the Courteney boot company has become a global niche brand in hand-made footwear. Despite a downward-spiralling Zimbabwean economy, the 14 staff at Courteney have their hands full to keep up with the increasing international demand.
Watch video on YouTube
---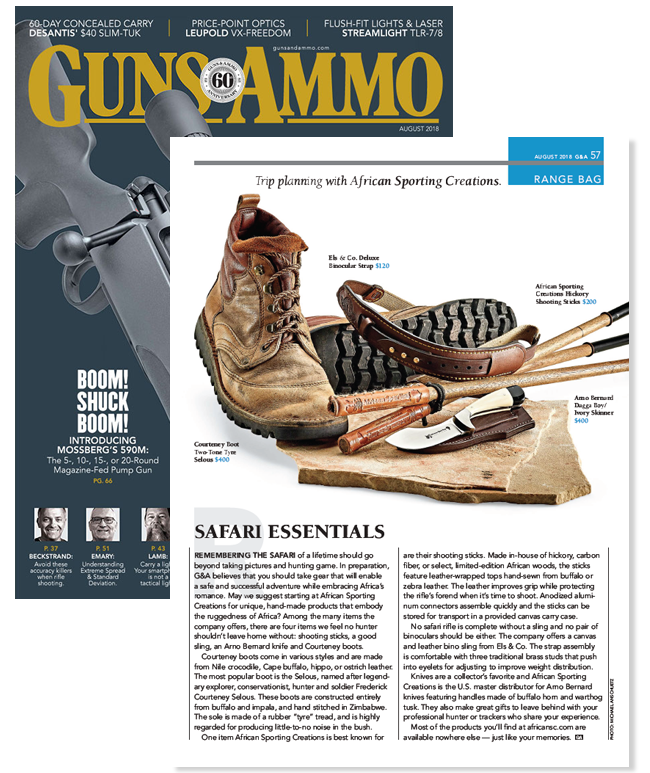 Trip Planning with African Sporting Creations
Safari Essentials
| AUGUST 2018
Remembering the safari of a lifetime should go beyond taking pictures and hunting game. In preparation, G&A believes that you should take gear that will enable a safe and successful adventure while embracing Africa's romance. May we suggest starting at African Sporting Creations for unique, hand-made products that embody the ruggedness of Africa? Among the many items the company offers, there are four items we feel no hunter shouldn't leave home without: shooting sticks, a good sling, an Arno Bernard knife and Courteney boots.
Courteney boots come in various styles and are made from Nile crocodile, Cape buffalo, hippo, or ostrich leather. The most popular boot is the Selous, named after legendary explorer, conservationist, hunter and soldier Frederick Courteney Selous. These boots are constructed entirely from buffalo and impala, and hand stitched in Zimbabwe. The sole is made of a rubber "tyre" tread, and is highly regarded for producing little-to-no noise in the bush.
One item African Sporting Creations is best known for are their shooting sticks. Made in-house of hickory, carbon fiber, or select, limited-edition African woods, the sticks feature leather-wrapped tops hand-sewn from buffalo or zebra leather. The leather improves grip while protecting the rifle's forend when it's time to shoot. Anodized aluminum connectors assemble quickly and the sticks can be stored for transport in a provided canvas carry case.
No safari rifle is complete without a sling and no pair of binoculars should be either. The company offers a canvas and leather bino sling from Els & Co. The strap assembly is comfortable with three traditional brass studs that push into eyelets for adjusting to improve weight distribution.
Knives are a collector's favorite and African Sporting Creations is the U.S. master distributor for Arno Bernard knives featuring handles made of buffalo horn and warthog tusk. They also make great gifts to leave behind with your professional hunter or trackers who share your experience.
Most of the products you'll find at africansc.com are available nowhere else — just like your memories.
Guns & Ammo, August 2018
---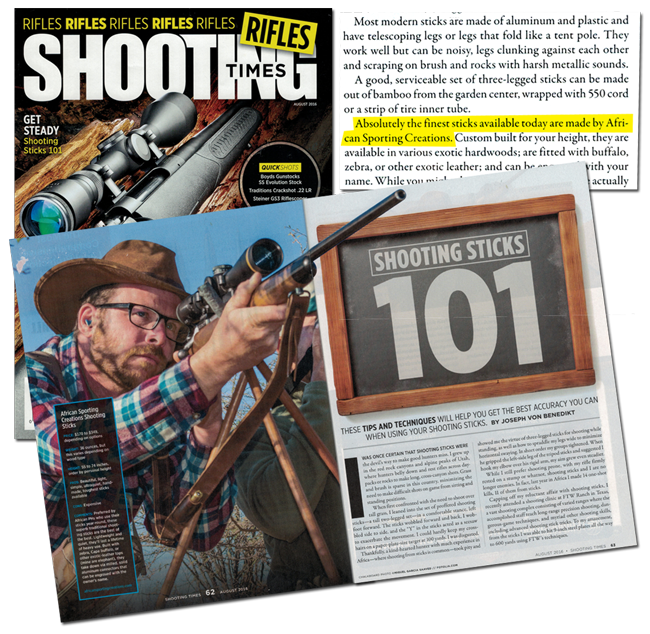 Get Steady | Shooting Sticks 101
"Absolutely the finest sticks available today are made by African Sporting Creations. Custom built for your height, they are available in various exotic hardwoods; are fitted with buffalo, zebra, or other exotic leather; and can be engraved with your name. While you might think they'd be heavy, they're actually lighter than competing metal and plastic versions, and they are far more durable. I've broken a few sets of modern sticks and have seen many more broken, but even African PHs, who work their shooting sticks incredibly hard year-round, don't wear out or break those made by African Sporting Creations."
Joseph von Benedikt, Shooting Times, August 2016
Field Tested | African Sporting Creations' Shooting Sticks
Shooting sticks have become standard tools for hunting in many places throughout the globe. A solid pair of sticks provides you with a steady platform from which to deliver an accurate first shot, regardless of the terrain.
African Sporting Creations offers a line of handmade sticks designed to last forever and back up with an unconditional lifetime warranty.
-Brad Fitzpatrick
---
American Hunter | Essential Gear
Shooting Sticks
While most PHs have sticks for their clients, I'm 6-foot-4, and I don't shoot well bent over in a half-crouch. Jim Morando of African Sporting Creations makes beautifully crafted shooting sticks that are as rugged as they are refined. Threaded, two-piece aluminum connectors lock together to form three stable legs but permit easy takedown for travel. A host of custom options are available, including seven types of wood; leather, zebra or buffalo tops; engraving; and yes, different heights, too.
Desert Boots
A silent stalk never seems so critical as when closing inside 30 yards on elephant or buffalo. Designed by African PHs, the Hunter by Zimbabwe's Courteney Boot Company is a below-the-ankle boot that features a tough but thin ripple sole that makes it easy to avoid scuffling in rocks and gives the hunter greater feel for twigs that could betray his position. Especially geared for flat terrain and hot weather, the unlined, high-grade leather keeps feet comfortable and cool. The Hunter is avail-able in the States exclusively from African Sporting Creations.