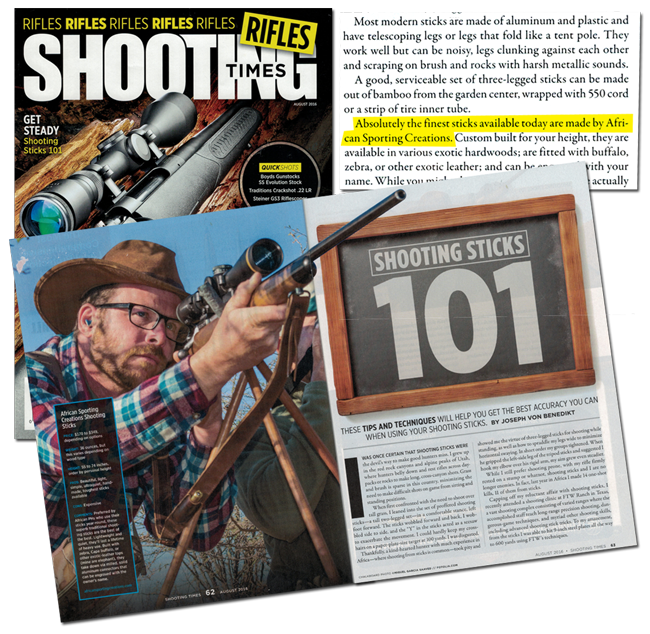 Get Steady | Shooting Sticks 101
"Absolutely the finest sticks available today are made by African Sporting Creations. Custom built for your height, they are available in various exotic hardwoods; are fitted with buffalo, zebra, or other exotic leather; and can be engraved with your name. While you might think they'd be heavy, they're actually lighter than competing metal and plastic versions, and they are far more durable. I've broken a few sets of modern sticks and have seen many more broken, but even African PHs, who work their shooting sticks incredibly hard year-round, don't wear out or break those made by African Sporting Creations."
Joseph von Benedikt, Shooting Times, August 2016
Field Tested | African Sporting Creations' Shooting Sticks
Shooting sticks have become standard tools for hunting in many places throughout the globe. A solid pair of sticks provides you with a steady platform from which to deliver an accurate first shot, regardless of the terrain.
African Sporting Creations offers a line of handmade sticks designed to last forever and back up with an unconditional lifetime warranty.
-Brad Fitzpatrick
American Hunter | Essential Gear
Shooting Sticks
While most PHs have sticks for their clients, I'm 6-foot-4, and I don't shoot well bent over in a half-crouch. Jim Morando of African Sporting Creations makes beautifully crafted shooting sticks that are as rugged as they are refined. Threaded, two-piece aluminum connectors lock together to form three stable legs but permit easy takedown for travel. A host of custom options are available, including seven types of wood; leather, zebra or buffalo tops; engraving; and yes, different heights, too. africanaportingcreations.com
Desert Boots
A silent stalk never seems so critical as when closing inside 30 yards on elephant or buffalo. Designed by African PHs, the Hunter by Zimbabwe's Courteney Boot Company is a below-the-ankle boot that features a tough but thin ripple sole that makes it easy to avoid scuffling in rocks and gives the hunter greater feel for twigs that could betray his position. Especially geared for flat terrain and hot weather, the unlined, high-grade leather keeps feet comfortable and cool. The Hunter is avail-able in the States exclusively from African Sporting Creations.