We are partial to Zulu Shields, Maasai lion spears/shields and intricately crafted Kuba spears from the Congo. Many sizes, materials and tribes are represented in our extensive inventory. Most of our items are at least 75-100 years old and some are much older. They were acquired from European museums or at auction. Many are coated from the soot of hundreds of wood fires and are readily distinguishable from their mass-produced replicas. The items shown are a small sampling of our collection.
Please keep in mind that our online inventory sells quickly, however we set aside a few special pieces that are not offered on our site or in our annual catalog to serve as substitute items. If you are looking for something in particular or want more details on an item, call us at (419) 529-5599.
We have one of the largest African weapons collections in the country and are particularly fond of Maasai Lion and Zulu stabbing (Iklwa) spears. Very Old (pre-1900), Old (1900-1930), Antique (up to 1960) and Current items available.
Spear Collection from the Congo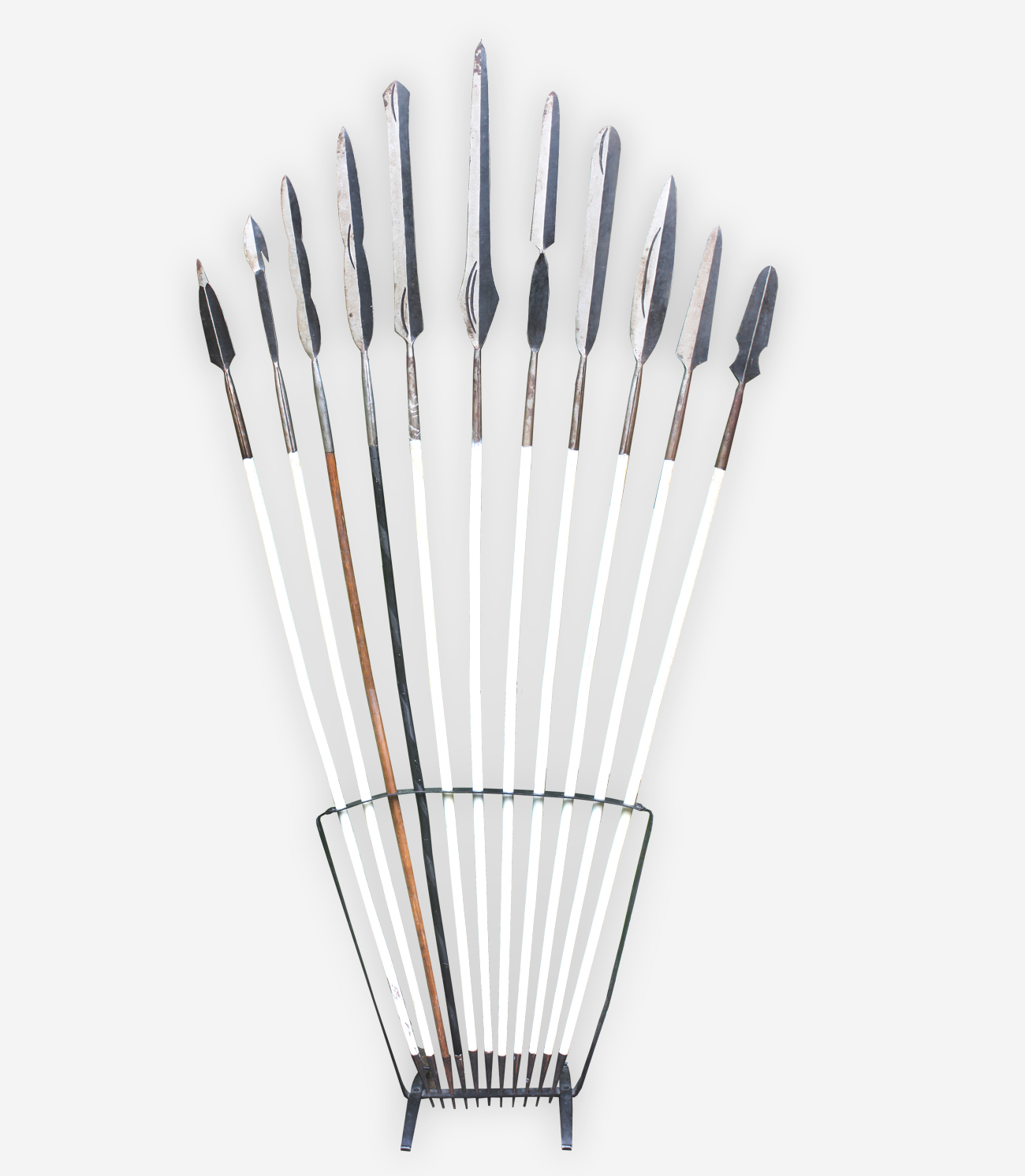 This decorative, eleven spear collection came back just after WW II when the Congo was of intense interest to both the US and the USSR, as it had one of the few Uranium mines in the world. At the start of the Cold War, both countries were trying to build up their inventory of nuclear weapons. The gentleman who bought this back worked for a Pan American Company in the Congo.
The tallest spear is 64" and the shortest one is 53". Each one has a 4" metal spike on the bottom and the decorative top metal (shaft and blade) ranges in length from 23"-12" long. Most of the shafts have a spiral decoration on them and three look like they have been replaced. The shaft on the spear in the #5 position has been replaced since the photo was taken with a natural African mahogany shaft of the same diameter and length.
The stand is hand forged steel and is riveted together. It is 20" wide at the top, 12" wide at the tapered bottom and the two sets of feet are 11" from front to back. When the metal stand has all the spears in it, it measures 34" from the tip of the shortest spear on one side, to the tip of the shortest spear on the other side.
We have seen miniature versions of the above, usually with decorative beading on spears that are approximately 24" long but have never come across one that displays full size spears in over three decades of collecting. This unique piece will look great in a corner or against a wall and we do not expect it to last long-
$3995
Buy Now
---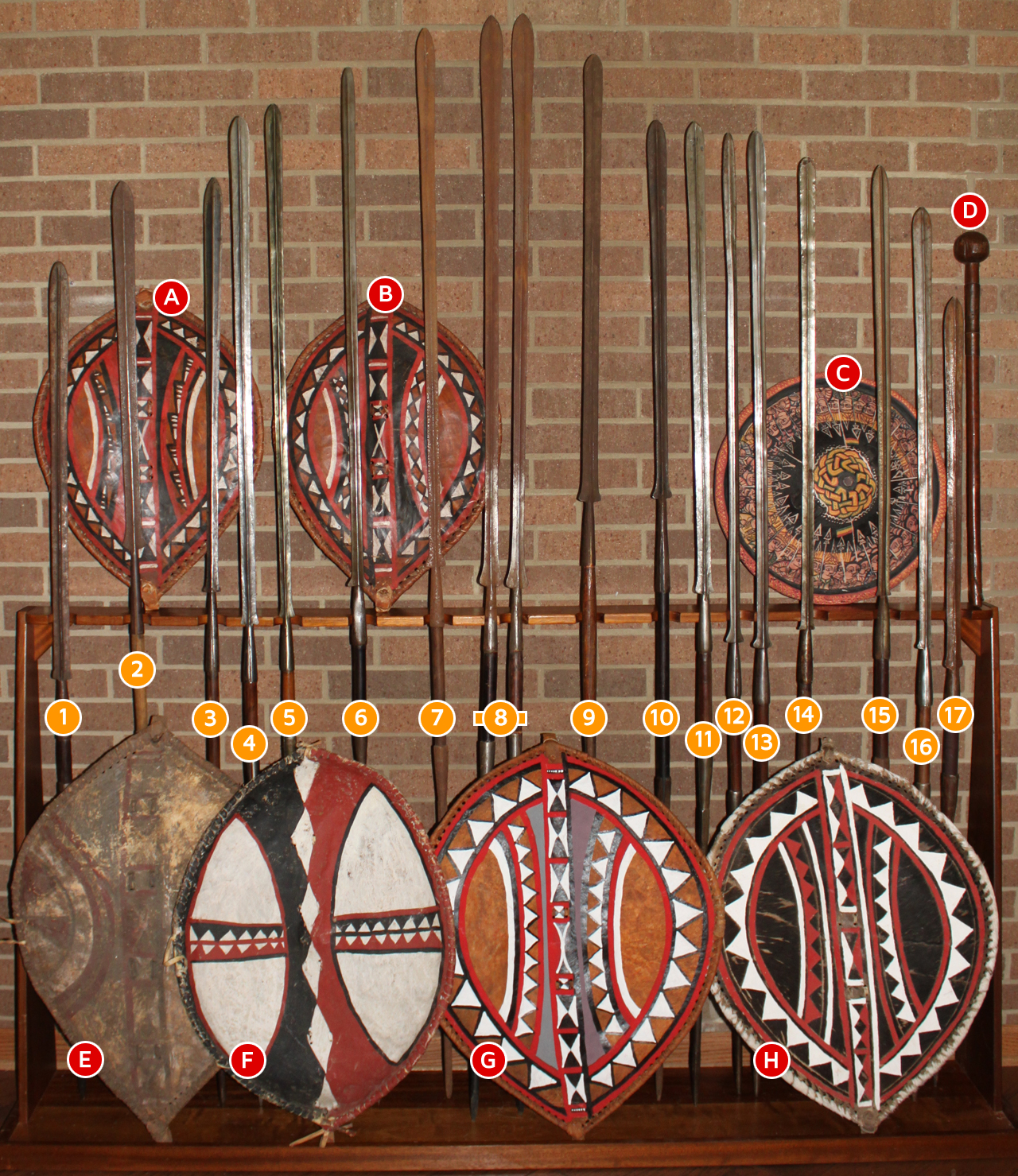 TOP ROW: Shields & Knobkerrie
A Current 24" thin leather Maasai shield-$149 SOLD
B Current 24" thin leather Maasai shield-$199 SOLD
C Antique, hand-painted, Ethiopian ceremonial shield depicting warriors carrying spears along the rim. Thick leather is 18" across and 8" tall with heavy-duty handle-$699 Buy Now
D Very old 28" Zulu War period Knobkerrie that has seen heavy use. Bulbous head has age cracks and was used extensively by an individual who amassed an amazing number of close quarter victories. Zulu warriors were known to notch their clubs just like old Western gunslingers, and this one has 16 of them in 3 different places around the top of the shaft. Split cow tail wrapping is still intact which is unusual for a piece this old and has a short, old chain near the grip for hanging. Your opportunity to own an amazing piece of African history. View Photos $1,999 Buy Now
MIDDLE ROW: Maasai Lion Spears
1 Old 63" Senior Maasai Lion Spear with wide blade that is nicely crafted-$599 Buy Now
2 Old 69" Junior (tan shaft) Maasai Lion Spear with excellent workmanship and 33" top section-$649 Buy Now
3 Old beautifully crafted 69" Senior Maasai Lion Spear with 36" top section-$749 Buy Now
4 Old 73" Senior Maasai Lion Spear with very long, nicely forged blade and nice bottom metal- $799 Buy Now
5 Old 74"Junior Maasai Lion Spear with very long, nicely forged blade- $749 Buy Now
6 Very old 77" Senior Moran Lion Spear with everything you look for in a museum quality piece; excellent metal work with a short shaft, flared guard, very long blade and detailed bottom metal-$899 SOLD
7 Old, heavy and extra-long 80" Senior Moran Lion Spear with nice, wide blade. Covered with a thin coat of rust but happy to remove it if you like at no extra charge -$849 Buy Now
8 Rare, old matched pair of 82" Jr. Moran Lion Spears (perfect for crossing) with nice top and bottom metal work. Comes with an old pair of Maasai leather sandals-$1,799 SOLD
9 Old 78" Senior Moran Lion Spear with nice wide blade and bottom metal details -$699 SOLD
10 Old, heavy 73" Senior Moran Lion Spear with ebony shaft and nice metal work-$799 SOLD
11 Very old 73" Senior Moran Lion Spear with everything you look for in a museum quality piece, excellent metal work with a short shaft, flared guard and detailed bottom metal-$899 SOLD
12 Very old 71" Senior Moran Lion Spear with everything you look for in a museum quality piece, excellent metal work with a short shaft, flared guard and detailed bottom metal. If other matched pair is sold, then #13 is almost identical to this one-$899 SOLD
13 Old 71" Jr. Moran Lion Spear with a twisted blade that usually indicates it was thrown into a heavily muscled animal-$699 Buy Now
14 Old, heavy 69" Senior Moran Lion Spear that has seen plenty of service-$699 Buy Now
15 Old 68" Senior Moran Lion Spear with nice wide blade and bottom metal details -$799 Buy Now
16 Old, heavy 67" Senior Moran Lion Spear with two-tone wood shaft and great metal details-$899 Buy Now
17 Old, heavy, 61" Senior Moran Lion Spear-$599 Buy Now
BOTTOM ROW: Shields
E Old 31" heavy, nicely crafted Maasai shield-$349 SOLD
F Old 27" Maasai shield with good colors in nice shape-$699 SOLD
G Large 29" scraped Maasai shield recently made in Tanzania with vibrant colors. Ten available-$329 SOLD
H Large 29" hair-on Maasai shield recently made in Tanzania with good colors. Two available-$299 SOLD
---
Extra Long Maasai & Samburu Spears

I Old, heavy and extra-long 84" Senior Maasai lion spear with nice wide blade-$749 Buy Now

J Old beautifully crafted 96" Samburu spear that has seen some hard use-$649 Buy Now

K Old 106" Samburu with XL blade that is straight as an arrow-$749
Buy Now

L Very old 100" Senior Moran Maasai Lion spear with extra-long 48" top section, replacement shaft and beautiful metal work-$999 Buy Now

M Old 93" Samburu spear that is beautifully forged -$649 Buy Now

N Very old 83" Senior Moran Maasai Lion spear with extra-long 40" top section, replacement shaft and the nicest top and bottom metal work we have seen in a long time-$999 SOLD
---
Kuba, Zulu, Sudanese Spears & Other Weapons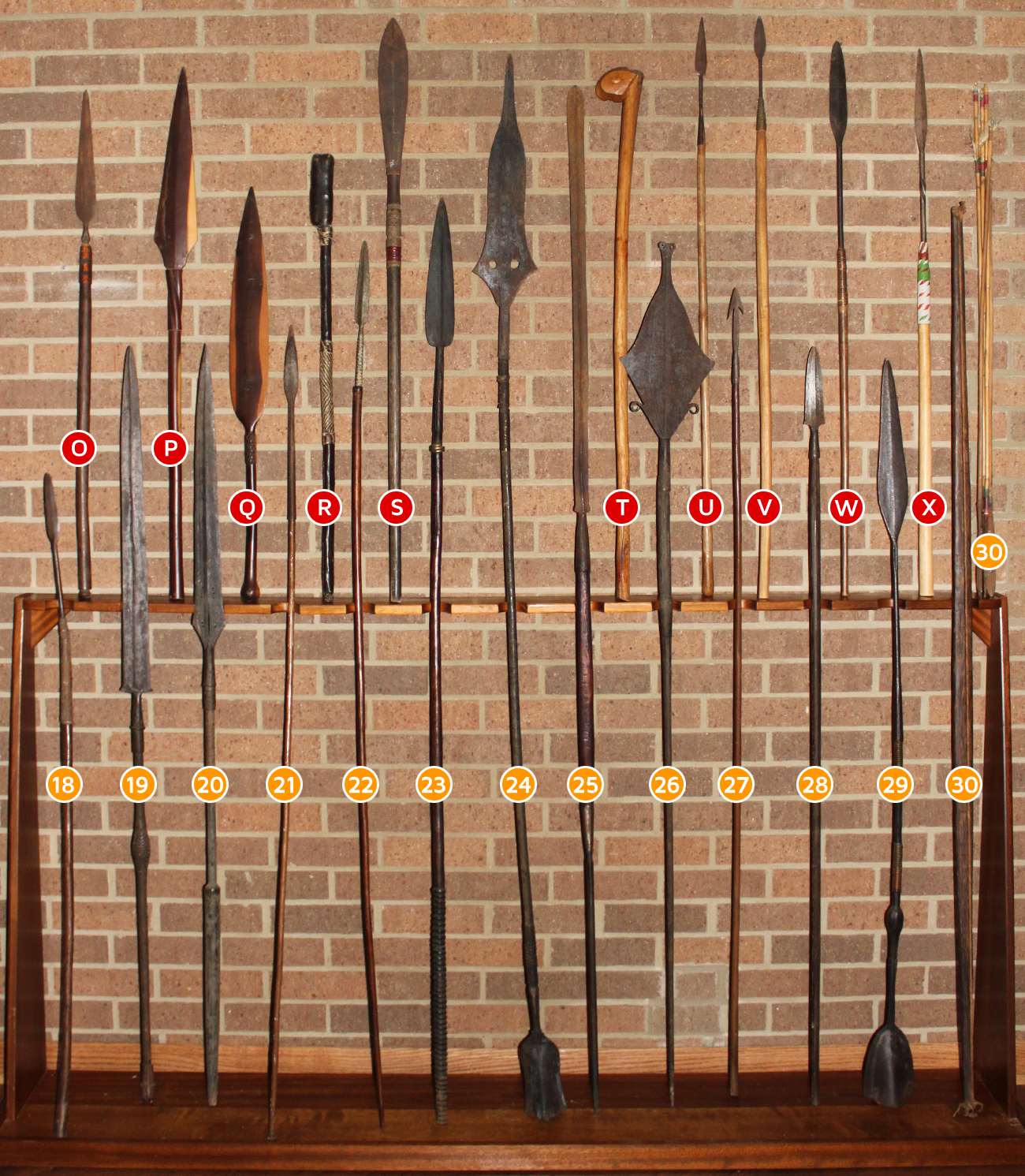 TOP ROW:
O Old 38" wire wrapped Zulu stabbing spear that is very nicely made-$399 SOLD
P Old 39" two-tone wooden Zulu spear with barley twist top shaft-$199 SOLD
Q Old 30" two-tone wooden Zulu spear with nice detailing-$199 Buy Now
R Leather and fiber swagger stick with Zulu weaving brought back by WW II British Officer-$499 Buy Now
S Heavily constructed, razor sharp spear with metal ring securing blade and plant fiber binding Believe this was used to start the process of butchering jumbo sized game-$899 Buy Now
T Old Swazi hawks-bill knobkerrie with short section of shaft split at the bottom complete with cut-out under head to deposit animal fat to prevent head from cracking-$399 Buy Now
U Very old 43" Zulu Ikwala stabbing spear with palm swell intact-$599 Buy Now
V Old 42" Zulu stabbing spear with newer, replacement shaft without palm swell-$399 Buy Now
W Old, 41" Zulu Ikwala stabbing spear with plant fiber binding, shortened shaft and two hanging holes-$399 SOLD
X Newer Zulu stabbing spear with telephone wire wrapping and barley twist top-$299 SOLD
BOTTOM ROW
18 Very old, warped Zulu Ikwala stabbing spear with cowhide wrap at the top and intact palm swell-$399 Buy Now
19 Old 56" long-bladed Kuba with intricately carved throwing bulb and intact counter-weight-$549 SOLD
20 Old 56" Kuba with tapered, counter-weighted shaft-$399 SOLD
21 Old 58" throwing spear from the Sudan with counter-weight-$499 Buy Now
22 Old 64" barbed throwing spear from the Sudan-$499 Buy Now
23 Old slavers spear from the Sudan with high-status brass ring on the top and metal wrapped bottom-$699 Buy Now
24 Very old 78" large sized Kuba spear with rare cowbell bottom and decorative metal wrapping-$499 Buy Now
25 Old 76" Maasai Lion spear with replacement shaft and nice detailing-$599 Buy Now
26 Mbole (Congo) dowry payment spear with long bottom metal-$399 Buy Now
27 Old, wicked, barbed 60" throwing spear from the Sudan with intact palm swell-$499 Buy Now
28 Old 56", octagonal shafted throwing spear with very rare Wenge (black) shaft-$599 SOLD
29 Old 55" Kuba with decorative metal wrapping, carved throwing bulb and rare cowbell bottom-$599 Buy Now
30 Old 66" bow made from Black Palm with fiber string and 3 barbed, metal tipped bamboo arrows (to right). This very rigid, fibrous black and white wood is preferred by many tribes for bows-$699 Buy Now
---
DAN Tribe Bird Masks

These two are sold as a set and come from the DAN Tribe in the Ivory Coast. Longer one is 30" tall and the other one is 28" tall. Both are intricately carved with vibrant colors and came back with a WW II soldier. Legend has it only images that come to the DAN in their sleep can be carved into masks and if that is true, the individuals behind these had quite an imagination. Old fiber twine attached to the back of masks means you will have them on display in no time at all! Due to their delicate nature, they each have one or two repairs you will be hard pressed to find. $1,499/pair Buy Now