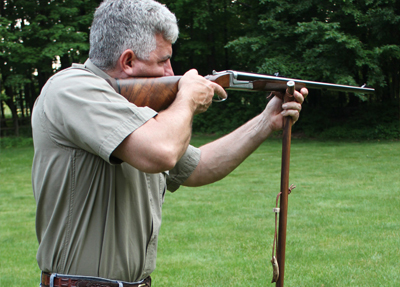 Seasoned Hunter Staff
This new item came about as a result of one of our customer's requests. After two knee replacements, this "seasoned citizen" wanted a stout walking staff that would double as a shooting stick. Based on his initial feedback, we hit the bulls-eye. This sturdy 1" Diameter Stalking Staff utilizes four precision engineered aluminum connectors/caps, is available in a variety of exotic woods and is topped with Fallow deer antler that you rest your rifles' fore-end on. We wrap the antler with leather for extra padding. This is a rock-solid Stalking Staff that will help you safely travel across your favorite hunting grounds and extend your ability to place a shot accurately by a considerable distance. The custom sized versions will also appeal to photographers and birders as it is the perfect height to rest a set of binoculars or a camera on for distortion free viewing or picture taking.

This very traditional piece will appeal to those who appreciate the very best custom made products that use the finest natural materials available and are fed up with those mass produced aluminum shooting sticks that always seem to come loose or clang together at the worst possible moment. Furthermore, if you want some support going up and over uneven ground or enjoy a nice walk on a country trail this is just what the doctor ordered. It has been medically proven that walking over uneven ground with the aid of a staff allows you to go approximately 35% further by taking stress off your lower body before fatigue (or an injury) slows you down. Anyone who has knee/ankle issues will appreciate the support these beautifully crafted and extremely rigid Seasoned Hunter Staffs will provide.

Our new take-down stalking sticks take the innovative features, attention to detail and custom craftsmanship that have made our African Shooting Sticks such a perennial favorite, to a whole new level. There are many custom details incorporated into these one-of-a-kind creations that will become evident as soon as you hold yours.

We have tried to make them something you will use and cherish for years to come. Terry Wieland, the Shooting Editor from Gray's Sporting Journal told us that in many of the old castles in Europe, stalking staffs are displayed that were passed down from one generation to the next for hundreds of years. We think ours can surpass that longevity record if properly cared for due to the rugged construction incorporated into every one we build. One day you can look forward to passing these on to your son, daughter, Grandson, Granddaughter or some other deserving companion.

The heart of all of our take-down models is our patent pending, aluminum take-down connector designed by a specialty fittings engineer who has over twenty five years of experience. This connector features two points of contact for tremendous strength. Putting them together is fast and easy as they screw together by hand without any tools in just a few seconds.

Each connector is precision milled from a solid piece of high strength, light weight Aluminum bar stock and is then anodized to a black, non-reflective, matte finish. The seam between the connector pieces would almost be impossible to feel if we did not puta small micro-bevel on the two (otherwise sharp) edges that are exposed when the sticks are taken apart.

If you take your Stalking Staff apart, you can use the top metal pointed section alone for shots from the kneeling or sitting position.

The outside diameter of the connectors is the same as the wooden shafts to provide a uniform thickness from top to bottom. We turn the top, two middle sections and the bottom of the wood shafts down to a 3/4" diameter so they fit flush inside the connectors. We hand sand every shaft and then apply two coats of satin gloss marine quality polyurethane to them to protect them from the elements. Each of the wood species we offer has a unique appeal.


Options Guide
Grade
Available
Woods
Length
Cut of Antler
Antler Hole Filler
Lanyard
Top Section
Optional Engraving
Case
Cost
Platinum

Shedua

Leopardwood

Brazillian Cherry

Custom made to order
Main beam standard and optional burr or bottom wrapped in leather
Custom mixed antler based blend for superior match
Braided Italian leather with antler button and tine
Point to use from from the kneeling position
Yes
Canvas
$399

They come with a high quality, heavy duty canvas carrying case adorned with our eye-catching logo. These cases are designed to keep your Seasoned Hunter Staff from coming into contact with your rifle during air transportation.

Platinum grade features any of the exotic woods and the bottom section or "burr" (the most desirable bottom portion of the shed) from the base of a Fallow Deer Antler. We then wrap the crotch of the antler in hand-braided Italian leather to protect your rifle's fore-end. The hole used to secure the top to the shaft is expertly matched with a custom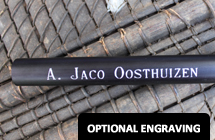 blend of antler based mix that matches the color and texture of the antler.The braided Italian leather lanyard includes an antler button to help keep the cord around your palm and is further adorned with an antler tine. The overall length of this model is determined by your specific height and whether or not you shoot a scoped or open sighted rifle. The bottom of this piece features a wood point. It comes with a high quality, heavy duty carrying case. The level of hand finishing and top-shelf components incorporated into this model makes it the most function and beautiful model we offer. This model can also be engraved with up to 30 characters for an additional $49.
Platinum grade - ORDER NOW!


Jim,
My son's seasoned hunter staff arrived today. Refreshing to see such craftsmanship and it is nicer than I envisioned. Thanks for enclosing the Holiday Catalog. Please send me a Dagga Boy Skinner when you get a minute.
Regards,
Roger N.
Ft. Worth, TX

We hope you enjoy using our Staff as much as we enjoy making them. You can take these with you anywhere so you can practice with them before your trip and relive the excitement of the hunt long after you return.