Craig Boddington: African Sporting Creations Shooting Stick Review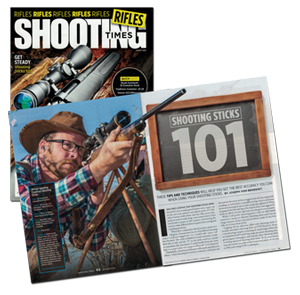 "Absolutely the finest sticks available today are made by African Sporting Creations."

About Our Shooting Sticks
Many years ago we only offered one product; African Shooting Sticks. We set out to make the best ones available and the rest of the business developed from that first, initial product.

Our shooting sticks are made one at a time in the USA and are the lightest, quietest, most rigid sticks available and the only ones that have an unconditional lifetime warranty. Most other sticks are heavier, louder and flimsy by comparison and come with a one year limited warranty.
The heart of our "Premium" Shooting Stick offering is our custom designed and patent pending connector which is milled from a solid block of aircraft aluminum that is virtually indestructible. This is the same mechanism that helped us win the highly coveted "Gray's Best" award and we use it on all our Premium Grade and Entry Level offerings. Our "Premium" Shooting Sticks are really in a class of their own from both a functional and aesthetic perspective, especially when you select our top of the line Platinum version with exotic wood shafts and exotic hide tops. Our "Premium" Shooting Sticks offer:
The only carbon fiber shooting stick on the market for unmatched rigidity in under a pound.
A positive locking connector that will not unintentionally come loose in the field that is the strongest one to be found anywhere. On every other Shooting Stick the connector is one of the weaker parts and on ours it is the strongest part.
Unmatched functionality, noise suppression and rigidity (due to the connector).
Shafts hand-turned from a half dozen of the worlds' most stunning exotic woods (Platinum), Brazilian Cherry (Gold) or hickory (Silver).
In terms of tops to pad your fore end, you have the choice of leather and either Zebra or Cape buffalo tops with the Platinum version. Gold and Silver versions come with one set of leather tops.
Platinum and Gold versions are offered in multiple lengths so everyone can get a pair that fits them just right.
Platinum versions offer the option of engraving your name (or a lucky recipient's) on the connector. To make sure the engraving (which goes down to the aluminum) really pops we anodize the connectors in matte black.
For double rifle shooters who want to practice off our shooting sticks, be sure to see our new Double Rifle Tripod Rest. This durable piece is designed to allow the wide fore end of a double rifle to sit comfortably on this filled leather shooting aid. Our customers have used our Shooting Sticks to take all manner of game in dozens of different countries. Whether they were going after moose in the wet swamps of Canada or Gemsbok in the featureless Kalahari, they have performed flawlessly. If you watch "Under Wild Skies" you have seen Tony Makris use them in Africa. If it is SCI's "Expedition Safari" with Mike Rogers, they traveled with him since 2007 to dozens of far flung hunting grounds. As seen in our ads, they have become a regular part of Craig and Donna Boddingtons' gear.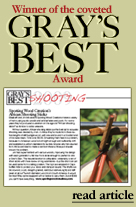 No product like them has received such critical acclaim from the Gun Press. Be sure to go to the Product Reviews to read what some of the best known writers in the industry had to say about them and many of our other products. Jim Carmichel, the Shooting Editor of Outdoor Life and a veteran of over 40 African Safaris had this to say about our "Premium" offerring, "They are the best I have ever seen or used."
In the hunting estates of Europe, Stalking Staffs were meticulously crafted by hand and passed down from one generation to another in very much the same way a favorite rifle still is today…..as a way to carry on the hunting tradition and provide a link to those who experienced the same thrill of the hunt previously. Our pieces carry on that same tradition. Every one is made by hand and built to last several lifetimes. Get yours today and start building memories for tomorrow.
"I am a firm believer in "African style shooting sticks" and have been using sticks from African Sporting Creations for several seasons. This year African Sporting Creations; screw-in tripod has become a permanent part of my gear. I took them to Pakistan in January where I used them "short" to take a Sind Ibex and "long" to take a Himalayan Ibex at long range in deep snow. Right now I am in Argentina--and you can bet my sticks are here with me!"